The market for masticating juicers is booming as more people recognize the benefits. With so many options, it can be challenging to choose the right one for your needs. Fortunately for you, we've compiled a list of the best masticating juicers to help make your decision easier, no matter your budget!
If you're serious about juicing, you want a juicer that gets the maximum amount of nutrition out of your produce while being efficient and easy to operate and care for. In most cases, your best bet for this is a masticating juicer.
Most masticating juicers, also sometimes called cold press juicers, are designed to slowly crush and squeeze produce using an auger, a particular type of large rotating screw, then filter the crushed material through a screen to separate the juice from the pulp.
"Cold" refers to the moving parts of a masticating juicer operating at a much slower speed than centrifugal juicers do.
The augers in masticating juicers typically spin at speeds of 100 rotations per minute (rpm) or fewer—generating less heat and less foam, which means the nutrients in your juice are better preserved and less subject to oxidation.
More nutrients equals healthier juice. It's simple!
What's not so simple is sifting through the vast number of available options for which is the best masticating juicer for your kitchen.
We've done the hard work for you, though, in putting together this list of the 11 best masticating juicers you can buy.
You'll find something for every budget. Whether you're a budding home juicer or have business ambitions, so no matter what you're looking for, we're sure there's a juicer here that's right for you.
The Best Overall Masticating Juicer
Omega are well-known for their range of juicing appliances, and in our opinion, they make the best masticating juicer you can buy today—the NC800HDS Juice Extractor and Nutrition Center.
Thanks to its dual-stage masticating action, this juicer is perfectly equipped to tackle almost any produce you want to turn into juice. It'll even do a decent job with wheatgrass!
What puts the Omega over the top are the six different nozzles and two screens that allow it to do so much more than just juicing fruits and vegetables.
You can make baby food and nut butters, it'll extrude fresh pasta, it'll grind coffee beans and whole spices, and it can even mince herbs!
It also comes with an adjustable end cap to control the amount of pulp in your juice, so if you like a little or a lot of pulp, or as little as possible, you're perfectly set.
Omega also offers an industry-leading 15-year warranty on parts and performance, which is tough to beat.
The Glow (what we like):
The extra nozzles allow the NC800HDS to be used for all sorts of purposes beyond pure juicing
15-year warranty on parts and performance
Larger feed chute than some other Omega models
Adjustable end cap for controlling pulp level
Easy to take apart and clean
The Shade (what we don't like):
Juicing screens can be fragile and prone to cracking
Less effective at juicing softer produce like tomatoes or mangoes
The Best Commercial Masticating Juicer for Your Home Kitchen
Tribest has several versions of the Greenstar available, but we think the Greenstar Elite is the best commercial masticating juicer for home use.
It's a hefty investment that you might be more used to spending on a couch or a TV, but you get quite a lot for your money.
The Greenstar Elite has a stainless steel twin gear masticating system designed to crush up your produce much like you'd chew it with your teeth—the gears slice like your incisors, cut, and tear like your canines, and crush like your molars.
All this means very efficient extraction with no stringy bits of celery in your juice.
The gears are designed to use magnetic and bioceramic materials to enhance nutrient extraction and delay oxidation.
So not only is your juice better for you when it's straight out of the machine, it'll lose a minimum of its nutritional goodness and keep fresh in your fridge for up to three days. Science is cool!
See also: The Benefits of Celery Juice + The Best Juicers for Celery
The Glow (what we like):
Twin gear masticating system can effortlessly process hard or sinewy vegetables with maximum nutrient extraction
Comes with four screens to control the level of pulp or for other applications
Can adjust pressure required for pulp ejection to help prevent jams
Add-on pasta maker set (sold separately)
The Shade (what we don't like):
Tougher to clean
Screen can get clogged when juicing for an extended length of time
The Best Commercial Masticating Juicer For Your Juice Bar
If you're in the business of juicing, you need the best masticating juicer: one that's efficient, reliable and can run for hours every day. Enter the Kuvings CHEF, a pricey but extremely effective vertical masticating juicer that will keep your juicing operation running as smooth as the juice it puts out.
The Kuvings CHEF has multiple features that make it ideal for commercial operation. It comes with a built-in cooling system to help keep the motor running longer, and the overall design of this juicer is designed to keep noise and vibration to a minimum.
What's more, it comes with a feeding chute wide enough to fit a whole apple, so you don't lose valuable time cutting up ingredients. Speaking of apples, this machine can juice up to 300 of them an hour!
As a bonus, you get a complete second set of the top half of the juicing assembly to minimize downtime if you need to change recipes or if cleaning is required.
Cleaning is simple, with included tools to speed up the process, and the exit spout for juice has a drip-free cap to minimize spillages.
The Glow (what we like):
Designed to run for long hours, facilitated by a cooling system for the motor and extra parts that can be quickly swapped in
Extra-wide feeding cute capable of handling whole fruits and vegetables keeps prep time to a minimum
Vertical design equals a smaller counter footprint
Excellent customer support
The Shade (what we don't like):
While you definitely want a high-performance juicer for your commercial operation, and you get what you pay for, the price of this juicer is going to make you think long and hard about it, especially if you want more than one
Some of the internal parts, like the juicing auger, are made of plastic, which might impart an undesirable taste to your juice
The Best Masticating Juicer Under $100
If you're new to juicing and want to test the waters without splurging on an expensive piece of equipment, we recommend the Aicok slow masticating juicer as the best masticating juicer you can buy for $100 or less at time of writing (check link for current coupons to save even more).
This machine comes with a few features you might expect to find on higher-priced juicers, such as a "reverse" function to help avoid clogging, and it runs relatively quietly.
It weighs a surprisingly hefty 10 lb for a relatively small unit, where you might expect a cheaper model to be made of lighter parts that feel flimsy.
As for performance, this machine can handle a variety of produce as long as you cut it up into small pieces first, and produces a minimum amount of foam in your juice.
It's also pretty easy to take apart and reassemble, which makes clean-up a simple process.
The Glow (what we like):
Comes with many of the same features you find with more expensive models – a low rpm motor, quiet operation, and a 2-year warranty
The "reverse" function is useful if your pulp is clogging the machine
One button disassembly makes taking the unit apart for cleaning quite easy
This model is compact, so it doesn't take up much room on your counter, but it feels sturdy
The Shade (what we don't like):
Aicok recommends a maximum continuous operating time of 10 minutes and at least 10 minutes wait between uses, so unless you've got lots of time on your hands, you won't be doing many extended juicing sessions
As with most inexpensive masticating juicers, the feed chute is narrow, so you'll need to spend some time cutting your produce up into small pieces
May struggle with harder produce, like carrots or ginger
The Most Stylish Masticating Juicer (it's a tie!)
If you prize aesthetics as much as performance, then these two models from Hurom are sure to appeal to the more style-conscious juicing enthusiast.
The Hurom HP is perhaps the most visually-appealing masticating juicer there is.
Its design is all smooth, rounded lines, and has a cool, mid-century modern vibe in the mint green or pink color options; it's easy to visualize this machine sitting on the counter of a retro-themed diner.
Don't let the looks deceive you as to the quality, though—it's made from sturdy parts.
With the more expensive H-AA model, you get an increased juicing volume capacity and three different strainers—a fine mesh for pulp-free juice or milks, a coarse mesh for soups, and a smoothies strainer for turning frozen fruit into, you guessed it, ice cream.
Both models operate quietly at a very slow 43 rpm, maximizing nutrient extraction and minimizing oxidation, and both come with a 10-year warranty on their motors.
The Glow (what we like):
Neither of these juicers sacrifices function for form—they look great and juice great, too!
Both juicers do a particularly good job in juicing leafy greens
The augers in these juicers are made from Ultem, a much stronger plastic than you'll find in cheaper models
The H-AA model comes with three different strainers, making it quite versatile in its potential applications, including making ice cream directly from frozen fruit
Can be given a quick clean without disassembly by pouring in water while the motor is running
The Shade (what we don't like)
Hurom's customer service may leave something to be desired
Doesn't handle celery very well
Taking the units apart for cleaning and reassembly can be a challenge (but there is a purpose-built drying rack available if you manage to open it up!)
The Best High-Speed Masticating Juicer
If you like the idea of a masticating juicer that also operates at high speeds, you should strongly consider the Champion Classic 2000 masticating juicer.
Unlike the other masticating juicers on this list that typically operate at speeds of 100 rpm or less, the Classic 2000 operates at 1725 rpm, which means it's going to turn your produce into juice much, much faster.
Combined with a feed chute that's wider than most other horizontal masticating juicers, which means less time spent cutting fruits and vegetables into smaller pieces, this juicer is perfect if you need to make lots of juice in a hurry.
The Classic 2000 is also extremely durable, made primarily of stainless steel and high-quality plastic so that you can expect years of reliable juicing.
The Glow (what we like):
Higher speed operation combined with a wider feed chute means less time spent prepping and less time spent juicing
Built to last from stainless steel and high-quality plastic
Can also be used to make baby food, nut butters, and frozen fruit smoothies
The Shade (what we don't like):
It weighs a full 20 lb, so if you're not going to leave it out on your countertop permanently, the Classic 2000 might be a bit cumbersome to move around your kitchen regularly.
As it's not a slow juicer, it might produce more foam than desired in your juice
The Best Vertical Masticating Juicer
So you might be wondering, "What's the difference between a vertical masticating juicer and a regular masticating juicer, and why would I want one?" Simply put, vertical masticating juicers are taller than they are wide, so they're great if space on your kitchen counters is hard to come by.
They often have a wider feed chute too, which can mean you spend less time cutting up your ingredients.
As for the second question, the Slowstar from Tribest can answer it. The Slowstar's standout feature is its double-edged auger made from super-tough Ultem plastic, designed to crush produce more efficiently than single-edged augers found in other models.
This works together with a cleverly designed motor boasting more power and torque than other vertical masticating juicers despite operating at a gentle 47 rpm, so it will quietly but effectively chew up carrots, leafy greens, and most other produce.
What we also like about the Slowstar is the mincing attachment, a dedicated feature you won't find on other vertical masticating juicers, which can be used to make salsa, pesto, nut butters, and even sorbet if you use frozen fruit.
The Glow (what we like):
The unique double-edged auger can power through most produce for maximum juice yield with minimal pulp
Extra mincing attachment for increased versatility—make sorbets, pesto, and more!
Operates at only 47 rpm, so it's very quiet
The juice outlet has a drip-free cap, so you can swap juice containers without worrying about having to clean up drips or spills
Backed by Tribest's 10-year warranty
The Shade (what we don't like):
Although the feed chute is a bit wider than what you'll find on conventional masticating juicers, you'll still need to spend some time cutting up your produce; other vertical juicers on the market can fit a whole apple
The pulp ejection port tends to get clogged up if you aren't careful
The Best Manual Masticating Juicer ($20!)
The Mueller Austria MK-105 Masticating Slow Juicer is excellent on several levels. Unlike most of the other juicers in this list, the MK-105 is manually operated—no motor means one less thing to go wrong with your juicer!
No motor also means that this juicer is very quiet, so it's great for small spaces where noise is a concern.
This juicer is sturdy enough to juice almost anything you want: it'll juice soft and hard fruits and vegetables, and it'll juice celery and wheatgrass. It's easy to take apart and clean, and as a bonus, the removable parts are all dishwasher safe.
We also like that the hopper for loading in your produce is a decent width, so you don't have to cut things up too small.
If you travel a lot and like being able to have fresh juice wherever you go, this juicer is small and light enough to fit in your suitcase.
If you like camping, or if you own a cabin that is off-grid or has no electricity at all, this juicer would be an ideal fit there too.
The Glow (what we like):
It's hard to find a juicer at such a low price point that's also really good at what it does
Will juice almost anything you're prepared to crank through it
Reasonably compact and lightweight, but also of sturdy construction
Really easy to take apart, clean, and put back together
The Shade (what we don't like)
While the wider hopper is a nice feature, it does open up the possibility of fingers getting caught in the auger
The suction cup on the unit's base, designed to secure the juicer in place while you use it, is a bit hit-or-miss if you don't have a smooth, level surface.
The Best Masticating Juicer for Wheatgrass
If you're into wheatgrass shots, Healthy Juicer makes a manually operated juicer primarily designed for this purpose.
Similarly to the manual juicer from Mueller Austria we described earlier, this one has a suction cup on the base, but it also has a clamp that allows you to secure it to the end of your countertop or kitchen table, which is a plus for us.
While it's ideally suited to wheatgrass, this juicer will handle any leafy greens pretty well, and if you're prepared to put in the effort with the crank, you can add some harder produce like carrots or ginger. That said, it's primarily geared towards greens.
Other neat features of this juicer include the ease with which it can be taken apart for cleaning, and the manufacturer also offers a "love it or leave it" 30-day money-back guarantee if you're not satisfied.
The Glow (what we like):
Excellent value if you primarily juice wheatgrass
Can be secured to almost any flat surface thanks to the suction cup and clamp
Lighter and much more portable than any electric juicer
30-day money-back guarantee if you're not satisfied
The Shade (what we don't like):
Quite expensive for a manual juicer; some electric juicers aren't much more costly than this
The design is such that the crank may bump both the clamp and the collection cup, which is a bit awkward and could lead to spills
The Best Slowest Masticating Juicer (Which Isn't A Bad Thing At All)
One of the primary appealing qualities of a masticating juicer is the slower operating speed, which avoids decomposition of enzymes and other nutrients in the juice through heating and oxidation.
So why not get one of the slowest masticating juicers available on the market?
The SKA10W Slow Masticating Juicer from SKG operates at just 36 rpm, so while you might be waiting a little longer for your juice to come out of the spout, all the nutritional goodies you're about to drink should be well preserved.
You will save time in preparation, as this juicer comes equipped with a 3.15-inch wide flip-gate feed chute, so you can easily juice whole apples or oranges, for example. However, the manufacturer recommends removing cores and rinds first.
The design of this model incorporates a few nifty features too. It comes with both a fine and a rough strainer for less or more pulp, respectively, and the included juice pitcher also has a fitted strainer to help remove any foam generated by the juicing process.
Check the link for a 60% discount coupon (at time of writing)
The Glow (what we like):
The extra slow operating speed should significantly limit the exposure of your juice to heat and oxidation, meaning the nutrients are better preserved
Save time on prep work thanks to the wide feed chute that can fit a whole apple and other large fruits
Comes with two strainers for controlling the amount of pulp, and the extra strainer for the juice pitcher helps keep foam out of your glass
Outstanding customer service
The Shade (what we don't like):
This is a big appliance that weighs over 22 lb, so it's not at all suited to being moved around your kitchen or in and out of cupboards if you don't have the countertop space to leave it out permanently
Might not stand up to harder produce like carrots, beets, or ginger if you like to juice these regularly
The 2-year warranty offered is much shorter than the warranty period offered by other manufacturers
Four Reasons Why You Should Buy A Masticating Juicer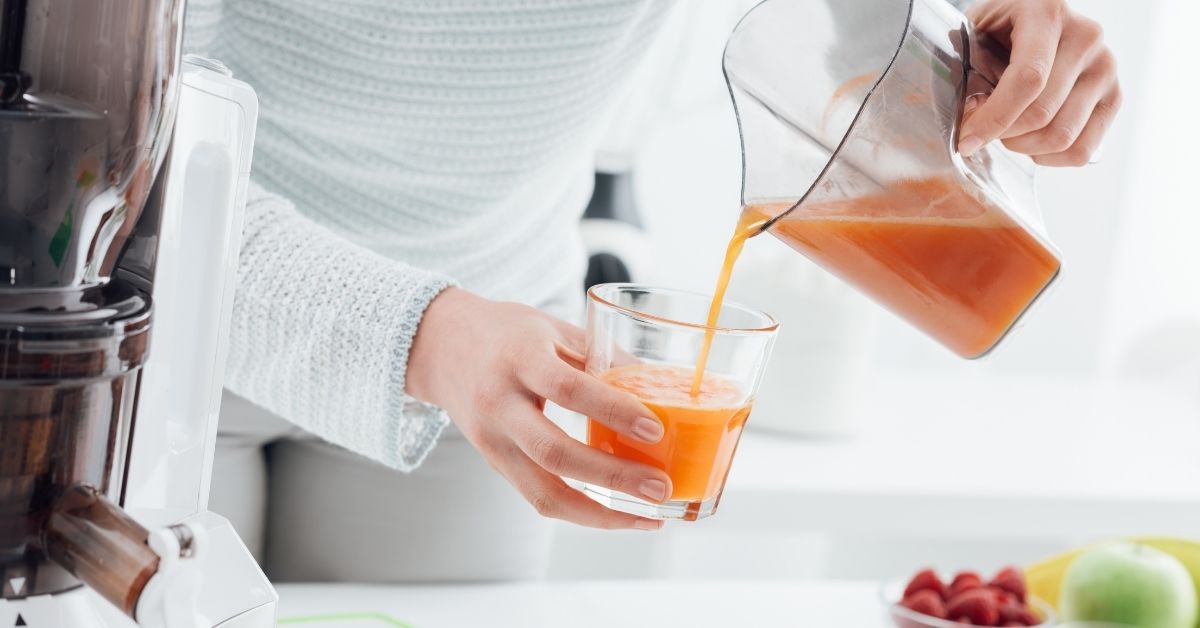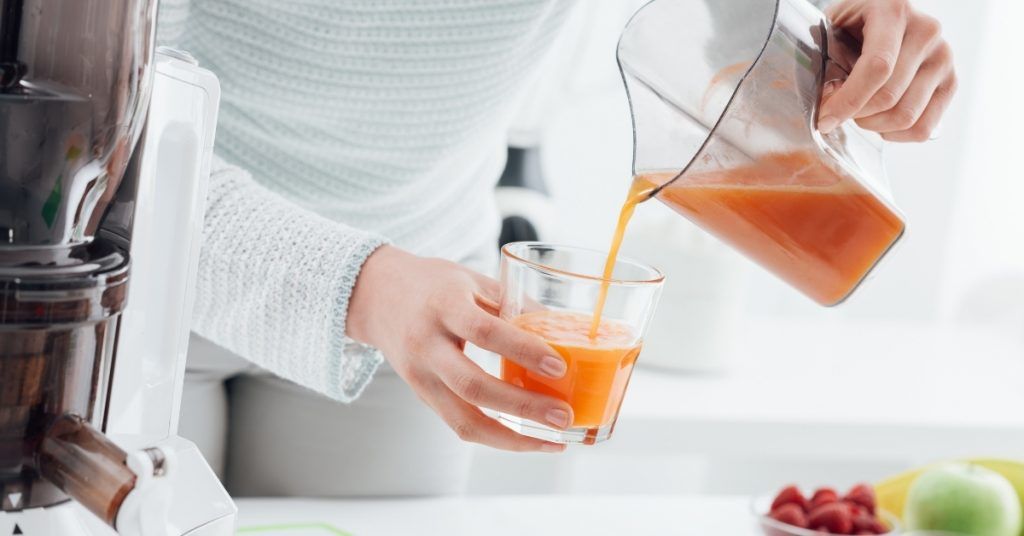 Maybe you're a juicing novice, or perhaps you've been enjoying the benefits of freshly squeezed juice in your own home for several years.
When the time comes to buy a new or a replacement juicer, you're faced with a difficult choice: should you buy a masticating juicer or a centrifugal juicer? Here are some arguments for why a masticating juicer may be the best juicer for you.
They're better than centrifugal juicers at juicing leafy greens.

This might be the simplest deciding factor of them all regarding the debate of masticating versus centrifugal.

If you want to make juice using kale, spinach, or other leafy green produce, you will be much better off purchasing a masticating juicer.

The slower operating speed and crushing mechanism are far more effective at extracting juice from these ingredients.
They're better than centrifugal juicers at extracting and preserving nutrients.

We outlined this in the introduction, but it bears repeating, given how important this might be to your decision making.
Motors generate more heat the faster they turn, and too much heat in the juicing process can lead to the decomposition of the nutrients you're hoping to extract. Moreover, because of how fast the moving parts spin, centrifugal juicers can generate a lot more foam in your juice—more foam means more exposure to oxygen, which can also decompose these precious nutrients.
The slower speed and crushing mechanism of masticating juicers help reduce decomposition, meaning your juice has more nutrients to start with. The nutrients will also be better preserved if you're making juice ahead of time.
They're usually quieter than centrifugal juicers. Suppose you don't want to disturb the rest of your household while you're juicing. In that case, the slower motor speed and consequently, more silent operation of a masticating juicer is more favourable. Manually operated masticating juicers like the Mueller Austria MK-105 and the Healthy Juicer, which have no motor at all, are even quieter!
Five Tips and Tricks For Getting the Most Out of Your Masticating Juicer
If you're new to juicing and new to masticating juicers, in particular, you likely have more to learn than you realize!
While most masticating juicer models are straightforward to operate, there's more to juicing than switching on the motor, feeding your produce into the chute, and collecting the juice.
Below, you'll find some tips for getting more out of your juicing experience and caring for your juicer.
Don't delay clean-up.

When your juicing session is finished, you're inevitably going to be left with some fruit and vegetable pulp on your juicer's working parts. This pulp can start to harden, which not only makes it tougher to clean, but it could stop your juicer from working as effectively. Filter screens or the pulp ejection port itself may clog more quickly, or the moving parts may not fit together correctly, which could potentially damage your juicer.
Our advice is simple: when you're finished juicing, disassemble your masticating juicer and rinse the removable parts under running water as soon as possible to make clean-up a breeze.
You can use mild dish soap if you want, just be sure to rinse all the suds off before leaving everything to dry! Many masticating juicers are sold with a cleaning brush, which can be useful for cleaning hard-to-reach areas or getting all of the pulp out of the screen.
Some masticating juicers, particularly the vertical models, can even be partially cleaned before taking them apart by pouring some water in through the feed chute while the motor is running.
You should always read the manufacturer's instructions before you use or clean your juicer.
Alternate between hard and soft produce.

Softer fruits and vegetables, like tomatoes and peeled citrus, tend to leave a bit more pulp behind in your masticating juicer's working parts. This can lead to more frequent jams or clogs that require you to use your juicer's reverse function, if it has one, or even take it apart completely to clear the blockage.
An easy way to help minimize this is to alternate between hard and soft produce as you go—after a few oranges or a bunch of kale, throw in some carrots or apple pieces to "clean" out your juicer and keep things running smoothly.
Not all fruits and vegetables work for juicing.

While bananas and avocados are delicious to eat, you won't get great juice out of them, even with a masticating juicer! These items and some other produce, including rhubarb, figs, and eggplants, simply don't contain enough water to juice, so they should be avoided.
Pay attention to the size of your juicer's feed chute.

Many horizontal masticating juicers have relatively narrow feed chutes. Make sure that you cut your produce into small enough pieces to fit comfortably into the chute, as larger chunks could get stuck or be more difficult for your juicer's auger to process efficiently.
Leftover pulp is not always waste!

You're finished juicing, you've cleaned your juicer, and you have delicious juice to drink. What to do with all the pulp? Sure, you could throw it in the garbage or compost it, but throwing it away isn't the only option available to you. Other things you can do with your leftover pulp include:
Feeding yours or a neighbour's chickens, use to make dog biscuits

Adding it to soups or smoothies for extra fiber

Boiling it with other ingredients to make broth

Making vegetable crackers, muffins, pizza crust, pancakes, etc
While you're deciding what to do with your leftover pulp, you can freeze it or dehydrate it to preserve it for longer.