Wondering what all the hype is over ginger shots? There's a ton of incredible benefits and we've broken down the top 10 while also helping you find the best juicer for ginger so you can make your own ginger shots at home!
What Are Ginger Shots Good For?
Ginger shots are good for their antioxidant, anti-inflammatory, and anti-nausea properties among many other benefits. Consuming ginger in a shot form is quick and easy as well as delicious.
Here is a break down of the top 10 benefits of ginger shots:
1. Ginger shots are anti-aging
Ginger has been shown to have a high amount of antioxidant properties. Antioxidants fight free radicals in your body, which are damaging in high amounts. Ginger contains aging-related antioxidants. (source)
2. Ginger shots contain high amounts of anti-oxidants
Ginger is high in antioxidants that also help to protect you from disease causing free radicals related to cancer, heart disease, and diabetes, among others. Only pomegranate and certain varieties of berries have more antioxidants than ginger. (source)
3. Ginger can help reduce pain and swelling
Ginger has been shown to help reduce the pain and swelling in patients suffering from rheumatoid arthritis, and osteoarthritis. The patients used ginger for between 3 months to 2 years, so you might need to stick to your ginger shot habit for a while to see results. (source)
4. Ginger shots could help reduce post-workout muscle soreness
The pain and swelling of general muscle discomfort has been shown to be alleviated by ginger. A daily ginger shot can help reduce post-exercise muscle soreness by up to 25 percent! Try drinking a ginger shot every day along with your exercise routine for less leg-day regrets. (source)
5. Ginger shots can help relieve menstrual cramps
Ginger shots can be your new period ally, helping you feel less crampy and achy before and during your period. Studies show that ginger supplementation works better than NSAIDs (non-steroidal anti-inflammatory drugs) such as ibuprofen! Since pre-menstrual cramps affect 90 percent of women, a ginger shot habit is a must-try for most women! (source)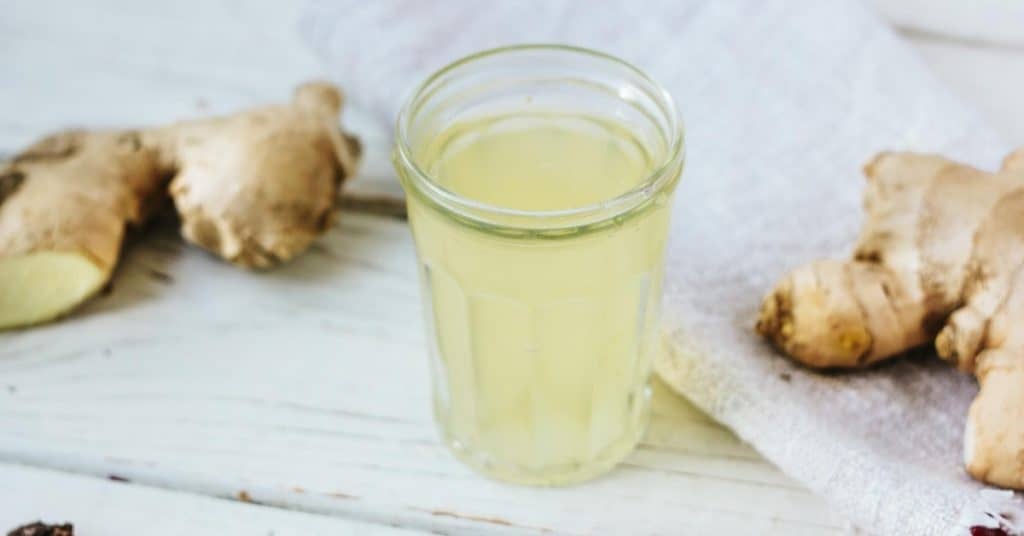 6. Ginger shots can help with gassiness
Ginger is known to help with tummy issues and one of the main reasons is thought to be that it breaks up gas. This was shown in a double-blind trial. So if someone (or maybe you!) suffer from being gassy, everyone will be thankful if you start a daily ginger shot habit! (source)
7. Ginger shots may help relieve seasickness and car sickness
Ginger is probably most famous for its ability to relieve nausea. In fact it's been used for thousands of years for this purpose in many cultures. It was exported from India to the Roman Empire over 2000 years ago especially for its medicinal uses. (source)
8. Ginger shots could prevent morning sickness
Nausea during pregnancy is not only in the morning, despite the term, but a daily morning ginger shot could help alleviate pregnancy-related nausea. Several double-blind, randomized, placebo-controlled clinical trials have shown that ginger works! Not only that, but it's also very safe, a huge relief when you're worried about your growing baby being exposed to drugs. (source) (source)
9. Ginger may suppress cancer cell growth
Several studies over the last few years have shown promise with ginger as an anti-cancer superfood. Ginger can stop the growth of certain cancer cells, even eliminating them in lab studies. (source) (source)
10. Ginger is beneficial for treating insulin resistance and diabetes and can aid in weight loss
Ginger can reduce fructose-induced rises in cholesterol, body weight, hyperglycemia, and hyperinsulinemia associated with insulin resistance. So if you are insulin resistant, one of the best benefits of ginger shots for you might be a reduction in blood sugar related ill health effects, and even weight loss. (source)
Read also: The Beginner's Guide to Juicing Celery (plus the best juicers!)
The Easiest Way to Juice Ginger at Home
The best juicer for ginger for you might just be something you already have in your kitchen drawer.
A garlic press is really all you need! There are pros and cons to this method and if you plan to make the most out of your ginger juicing, than you might want to consider a more heavy duty ginger juice extractor (aka a juicer).
Method: Grater + Garlic Press
Peel and grate a few tablespoons of ginger (tip: use the tip of a spoon to peel ginger easily!)

Place the grated ginger in a garlic press and squeeze out the juice.
Tip: use fresh ginger for this method. Older ginger will not be juicy enough!
Pros: this method is easy and you probably already have the equipment on hand
Cons: you won't get as much juice out of your ginger as you will with a juicer; this method can be tedious if you want to prep a lot of juice at once.
The Best Juicer for Ginger
If you really want to make the most out of your ginger juicing regime, you'll want to purchase the best juicer for ginger —one that can handle fibrous ginger root easily.
The best part is that you can make ginger flavoured juices with other fruits and vegetables easily at the same time.
You can also juice a whole week's worth of ginger in one go! This will make sticking to your ginger shot routine much more likely and way more convenient.
So we've reviewed three juicers to help you pick the best juicer for ginger shots.
THE GLOW (what we like)
More nutrition

— slow motor, less froth, more nutrition kept intact, less air in the juice means it keeps for longer.

More pure juice

— extracts more juice than centrifugal juicers

Quiet

— less than 60 decibels

Easy to clean

— dishwasher safe parts

Perfect for ginger

— can extract juice from fibrous veggies and fruits like ginger, celery, wheat grass, carrots, etc.

Warranty

– 2 years warranty; Provide lifelong technical consultant and 24 hours customer service; BPA free material, UL, FDA certification.
THE SHADE (what's not so great)
Taking apart the machine can be a pain

Not as powerful as some more expensive brands

Some pulp may get through into the juice (could be a pro if you prefer more fiber)

Narrow feeder tube so foods need to be cut up smaller prior to juicing
THE GLOW (what we like)
Keeps juice cold

to preserve nutrients

Space saving

design to keep it on your countertop

Extra wide feed chute

— you won't have to cut your produce into little pieces

Extra large juice capacity

—

70 fl. oz. jug for the whole family or make a big batch to store in the refrigerator for up to 3 days

Can juice directly

into a glass without drips!

Comes with a built in froth separator
THE SHADE (what we don't like)
Has only two speeds (soft and hard produce)

Not very quiet

Not as good as more expensive machines at juicing leafy greens
THE GLOW (what we like)
Extra wide feed chute

— you won't have to cut your produce into little pieces

Dishwasher safe parts

Space saving design

to keep it on your countertop, yet still powerful

Built in froth separator

More nutrition and juice

— disc/ mesh design for more juice and nutrient extraction

Juices whole ginger

(and turmeric)
THE SHADE (what we don't like)
Doesn't juice fresh herbs well

Might not stand up well to the test of time

Some leakiness
The takeaway: these are three of the best juicers for ginger and we are confident you will be happy with whichever one you choose.
If you are unsure, try the grater method first and see how you like ginger shots. If you see the benefits (which we are sure you will!) then perhaps, a juicer that can make your ginger shots in bulk along with a ton of other ginger flavoured juices is your best bet.
Remember to PIN for later!